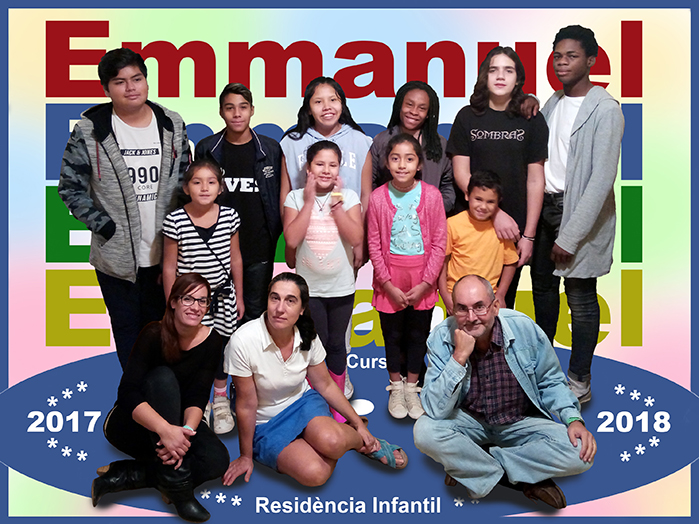 .

PRAYER NEWS
OCTOBER 2017

.
New school year photo
This is our new school year photo, taken at the start of this autumn term, with six at secondary school, "el instituto", and four at primary school, "el cole" (short for "colegio"). And with the care team in the foreground. All of us are eager to get into the swing of things again. We're not a big group, but not a small one either. Each one of us is of inestimable worth. Each of our lives is of supreme importance, with its subtle mix of simplicity and complexity, strength and vulnerability, failures, new challenges and new hopes.
It's the start of a new school year in which we will live together, play games, study, rest, try our best, suffer, eat, ask questions, laugh, chat, learn, sleep, fall ill, ponder life's issues, get well, be quiet, sing, get angry, read, dance, say sorry, ring people up, yawn, travel… and all the many other actions that we'll end up doing over the coming months. All of it with the help of supporters like you, as we try in myriad ways to encourage our charges to …
G R O W U P
Prayer topics
(1) *** That the carers' example of respectful and peace-loving acceptance will rub off on the children and their families, at this time of social crisis.

(2) *** That the wonderful commitment shown to our Home, the RIE, by friends, families, entities, churches, businesses and other organisations will continue to empower our child foster service.
Residència Infantil Emmanuel - c./ Josep Anselm Clavé, 18 - 08960 Sant Just Desvern (Barcelona) - Tel. 933 722 054 - info@resi-rie.org - www.resi-rie.org - Banking Institution: CaixaBank / "La Caixa" - Account number: ES61 2100 9250 6922 0011 8569
R I E - EMMANUEL
CHILDREN'S HOME

Prayer news
Our photo of the month is a brief message to convey information and our thanks to you and all those who support and share in the work of our children's home.

THANK YOU !!!

RIE's web
A big thank you to the voluntary translators!
Photo display authorized by the legal guardians