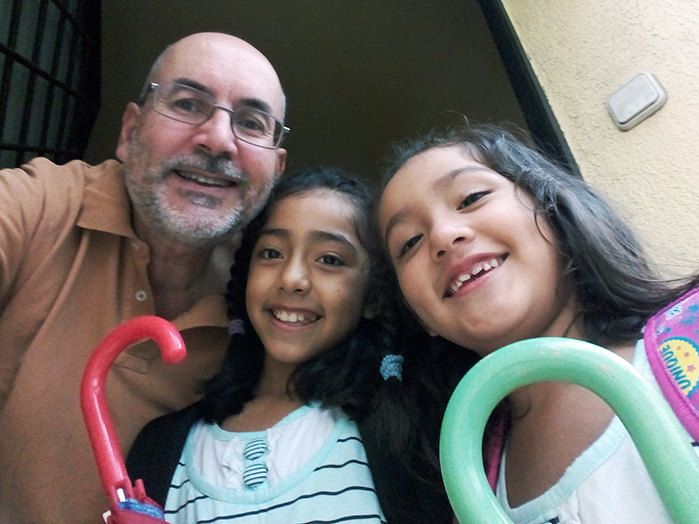 .

PRAYER NEWS
SEPTEMBER 2017

.
First day back at school
Hello! The first day back at school was rainy. But as the Spanish saying about bad weather "a mal tiempo, buena cara" suggests, everybody needed to "put a brave face on it". Just as they need to face up to their anxieties about other challenges: starting anew in September, a change of home, a different pace, new books, subjects and homework, the difficulties facing each parent… What will our Home, the "Resi", be like this new school year? Well… they'll be some rainy days, and moments of thunder and lightning, but plenty of calm and sunny days too. The most important thing, whatever happens, is to be well looked after and have a roof over our heads.
In our literature problems can be symbolised as "the dragon which the prince must slay" or as "windmills which look like terrible giants". But in our case, in the difficulties we face, the prince, or knight or damsel is not alone in their struggle. We know we can count on a large group of amazing volunteers and helpers. We know you'll be helping us in the challenges and difficulties we'll meet in our adventure. Doing volunteer work, giving financial support, providing assistance with this and that, welcoming us, visiting us… Thank you for all the ways you get involved. Thank you, each one of you, for however you help us out. We're back in business. And we need you, right from day one.
Prayer topics
(1) *** For the care team and volunteer helpers, that we may all know how best to accompany and help the younger and older children in this new school year.

(2) *** For each of the ten children and young teenagers, with their own individual and family issues. And for their parents and relatives.
Residència Infantil Emmanuel - c./ Josep Anselm Clavé, 18 - 08960 Sant Just Desvern (Barcelona) - Tel. 933 722 054 - info@resi-rie.org - www.resi-rie.org - Banking Institution: CaixaBank / "La Caixa" - Account number: ES61 2100 9250 6922 0011 8569
R I E - EMMANUEL
CHILDREN'S HOME

Prayer news
Our photo of the month is a brief message to convey information and our thanks to you and all those who support and share in the work of our children's home.

THANK YOU !!!

RIE's web
A big thank you to the voluntary translators!
Photo display authorized by the legal guardians